Welcome to Bushman's Baobabs Bookings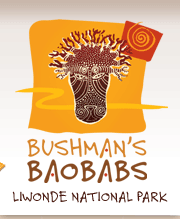 On this page you can book dorms and camping at Bushman's Baobabs.
For private rooms and chalets please click here or follow the menu under Services and then Practical Support.
Bushman's Baobabs is situated on the junction of the Shire river and the southern boundary stream of Liwonde National Park. Set in a beautiful grove of ancient Baobabs, the Lodge shelters beneath the great boughs of these elephantine trees.
We welcome groups and if you would like to discuss a program in advance then please feel welcome to discuss your needs with us. You can write to us on info@esafrican.com.
You can read a blog post on how to enjoy Bushman's Baobabs here.
Save